Peter Hounam Investigates
Daily Mirror, Friday, September 24, 1993
FOR years Adrian Maritz has lived in fear, on the run from the South African police.
He is a former spy who says Britain helped South Africa to arm Iraq with nuclear missiles.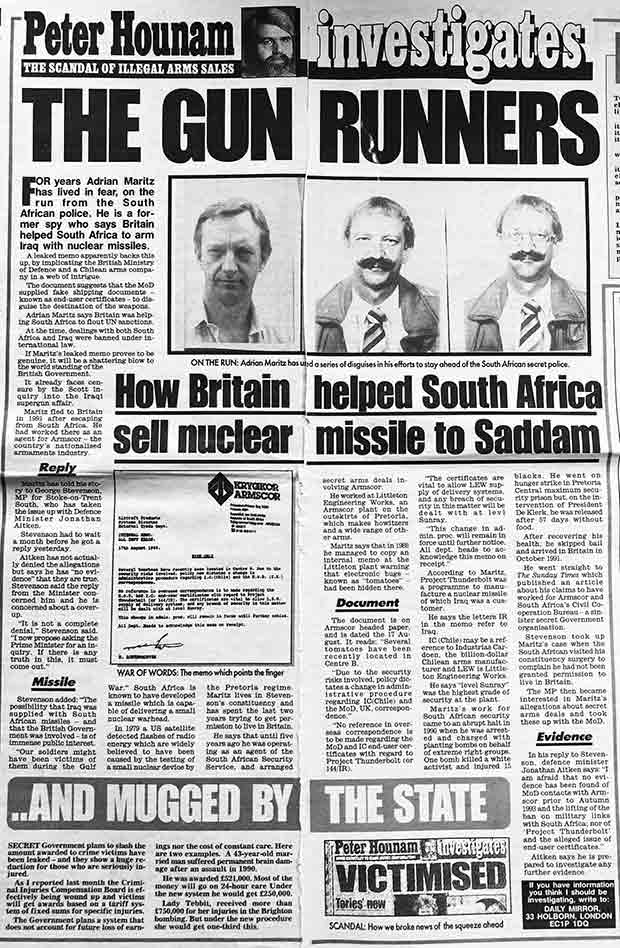 A leaked memo apparently backs this up, by implicating the British Ministry of Defence and a Chilean arms company in a web of intrigue.
The document suggests that the MoD supplied fake shipping documents known as end-user certificates – to disguise the destination of the weapons.
Adrian Maritz says Britain was helping South Africa to flout UN sanctions.
At the time, dealings with both South Africa and Iraq were banned under international law. If Maritz's leaked memo proves to be genuine, it will be a shattering blow to the world standing of the British Government.
It already faces censure by the Scott inquiry into the Iraqi supergun affair.
Maritz fled to Britain in 1991 after escaping from South Africa. He had worked there as an agent for Armscor – the country's nationalised armaments industry.
Maritz has told his story to George Stevenson, MP for Stoke-on-Trent South, who has taken the issue up with Defence Minister Jonathan Aitken.
Stevenson had to wait a month before he got a reply yesterday.
Aitken has not actually denied the allegations but says he has "no evidence" that they are true. Stevenson said the reply from the Minister concerned him and he is concerned about a cover-up.
"It is not a complete denial," Stevenson said. "I now propose asking the Prime Minister for an inquiry. If there is any truth in this, it must come out."
Stevenson added: 'The possibility that Iraq was supplied with South African missiles – and that the British Government was involved  of immense public interest.
"Our soldiers might have been victims of them during the Gulf War."
South Africa is known to have developed a missile which is capable of delivering a small nuclear warhead.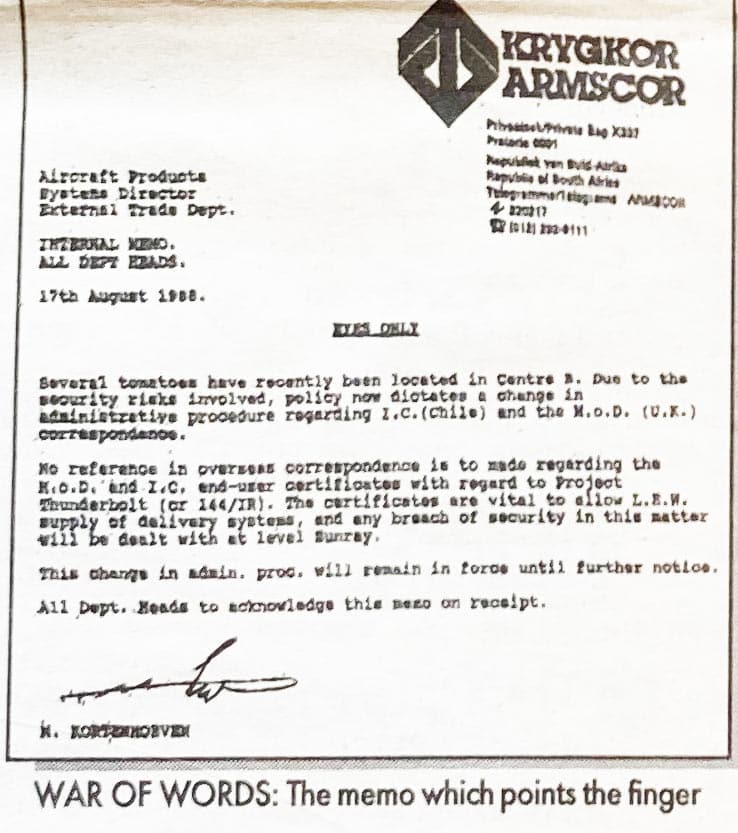 In 1979 a US satellite detected flashes of radio energy which are widely believed to have been caused by the testing of a small nuclear device by the Pretoria regime.
Maritz lives in Stevenson's constituency and has spent the last two years trying to get permission to live in Britain.
He says that until five years ago he was operating as an agent of the South African Security Service, and arranged secret arms deals involving Armscor.
He worked at Littleton Engineering Works, an Armscor plant on the outskirts of Pretoria, which makes howitzers and a wide range of other arms.
Maritz says that in 1988 he managed to copy an internal memo at the Littleton plant warning that electronic bugs known as "tomatoes" had been hidden there.
The document is on Armscor headed paper, and is dated the 17 August. It reads: "Several tomatoes have been recently located in Centre B.
"Due to the security risks involved, policy dictates a change in administrative procedure regarding IC (Chile) and the MOD, UK, correspondence."
"No reference in overseas correspondence is to be made regarding the MoD and IC end-user certificates with regard to Project Thunderbolt (or 144IR).
The certificates are vital to allow LEW supply of delivery systems, and any breach of security in this matter will be dealt with at levl Sunray.
"This change in admin. proc. will remain in force until further notice. All dept. heads to acknowledge this memo on receipt."
According to Maritz, Project Thunderbolt was a programme to manufacture a nuclear missile of which Iraq was a customer.
He says the letters IR in the memo refer to Iraq.
IC (Chile) may be a reference to Industrias Cardoen, the billion-dollar Chilean arms manufacturer and LEW is Littleton Engineering Works.
He says "level Sunray" was the highest grade of security at the plant.
Maritz's work for South African security came to an abrupt halt in 1990 when he was arrested and charged with planting bombs on behalf of extreme right groups. One bomb killed a white activist and injured 15 blacks. He went on hunger strike in Pretoria Central maximum security prison but, on the intervention of President De merk, he was released after 57 days without food.
After recovering his health, he skipped bail and arrived in Britain in October 1991.
He went straight to The Sunday Times which published an article about his claims to have worked for Armscor and South Africa's Civil Cooperation Bureau – a sinister secret Government organisation.
Stevenson took up Maritz's case when the South African visited his constituency surgery to complain he had not been granted permission to live in Britain.
The MP then became interested in Maritz's allegations about secret arms deals and took these up with the MoD.
In his reply to Stevenson, defence minister Jonathan Aitken says: "I am afraid that no evidence has been found of MoD contacts with Armscor prior to Autumn 1993 and the lifting of the ban on military links with South Africa nor of 'Project Thunderbolt' and the alleged issue of end-user certificates."
Aitken says he is prepared to investigate any further evidence.