Peter Hounam Investigates
Daily Mirror, Friday, June 4, 1993
TAXMEN are probing a £l million homes deal involving three soccer stars.
Houses worth £325,000 each went to Chelsea manager Glenn Hoddle, Manchester United striker Mark Hughes and Rangers ace Mark Hateley.
The deal to secure the "executive" west London homes was negotiated by controversial soccer agent Dennis Roach.
He had earlier acted as the players' personal manager when they moved clubs in big-money deals.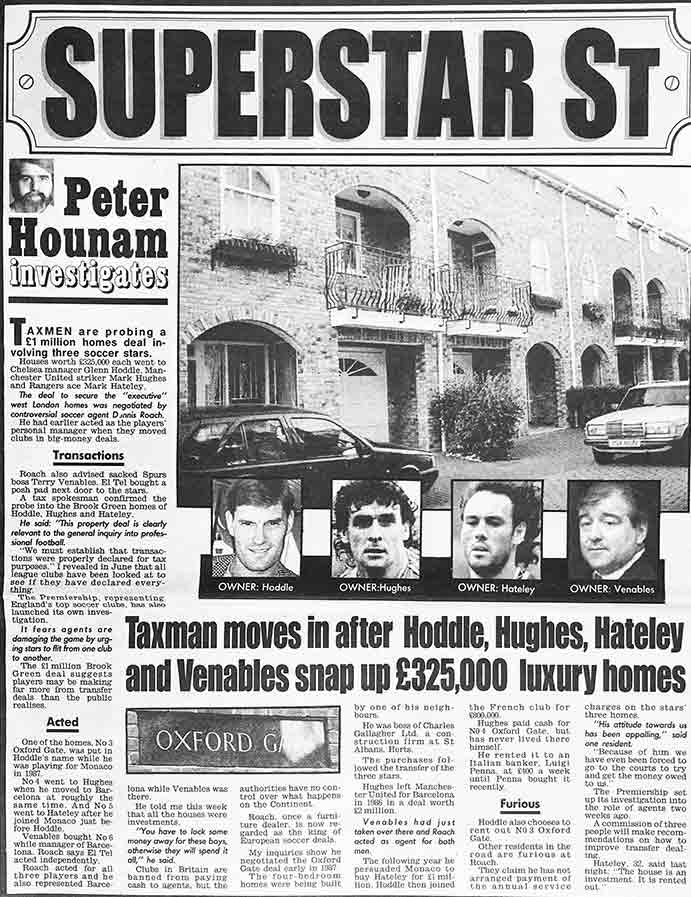 Transactions
Roach also advised sacked Spurs boss Terry Venables. El Tel bought a posh pad next door to the stars.
A tax spokesman confirmed the probe into the Brook Green homes of Hoddle, Hughes and Hateley.
He said: '"This property deal is clearly relevant to the general inquiry into professional football.
"We must establish that transactions were properly declared for tax purposes. "  I revealed in June that all league clubs have been looked at to see if they have declared everything.
The Premiership, representing England's top soccer clubs, has also launched its own investigation.
It fears agents are damaging the game by urging stars to flit from one club to another.
The £l million Brook Green deal suggests players may be making far more from transfer deals than the public realises.
Acted
My inquiries reveal that while Yeltsin receives a salary of only £160 a month, he is wasting huge amounts of public money on grandiose projects for his own personal benefit…
One of the homes, No 3 Oxford Gate, was put in Hoddle's name while he was playing for Monaco in 1987.
No 4 went to Hughes when he moved to Barcelona at roughly the same time.
And No 5 went to Hateley after he joined Monaco just before Hoddle.
Venables bought No 6 while manager of BarceIona.
Roach says El Tel acted independently.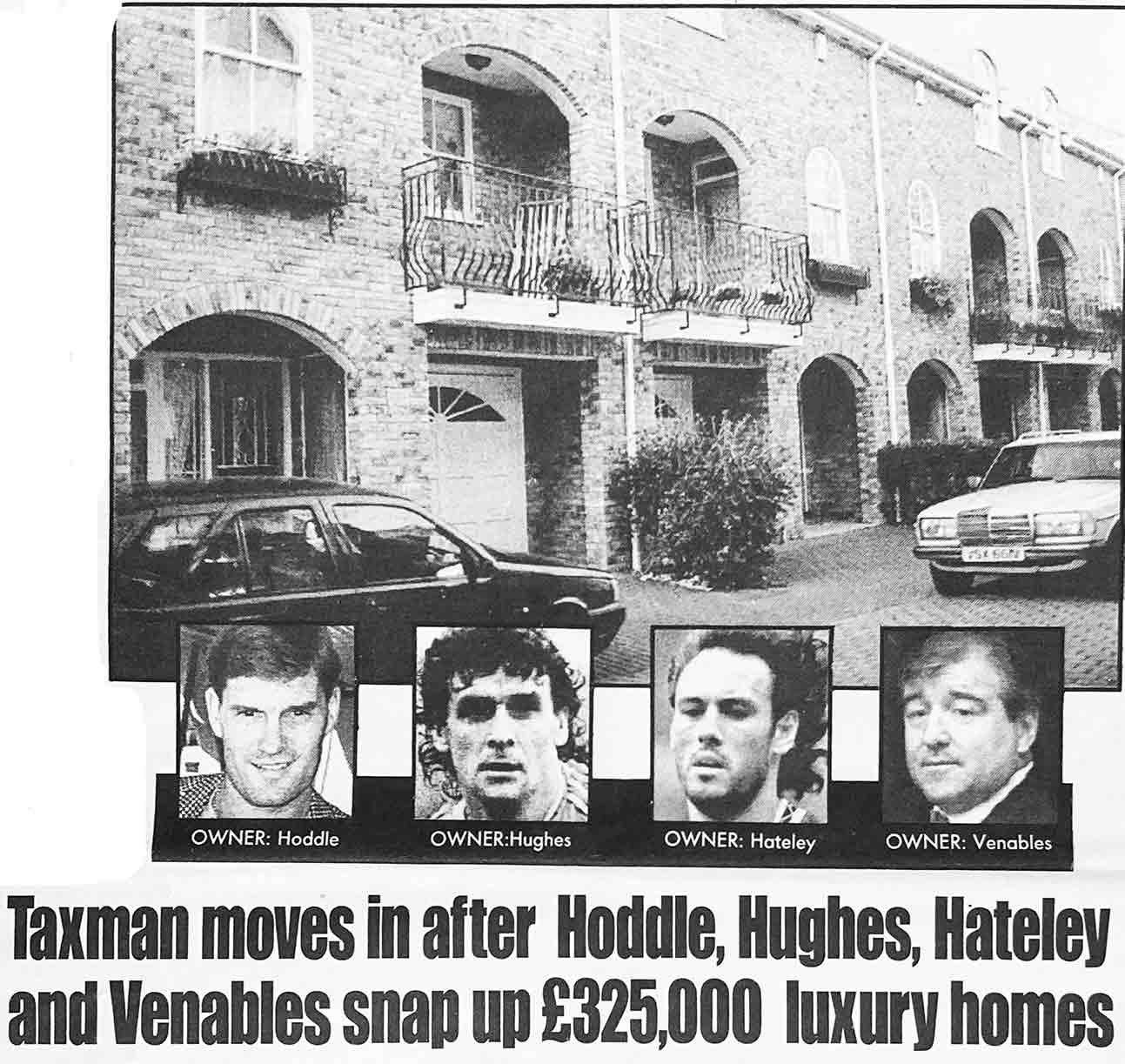 Roach acted for all three players and he also represented BarceIona while Venables was there.
He told me this week that all the houses were investments.
"'You have to lock some money away for frese boys, otheræise they will spend it all," he said.
Clubs in Britain are banned from paying cash to agents, but the authorities have no control over what happens on the Continent.
Roach, once a furniture dealer, is now regarded as the king of European soccer deals.
My inquiries show he negotiated the Oxford Gate deal early in 1987.
The four-bedroom homes were being built by one of his neighbours.
He was boss of Charles Gallagher Ltd, a construction firm at St Albans, Herbs.
The purchases followed the transfer of the three stars.
Hughes left Manchester United for Barcelona in 1986 in a deal worth £2 million.
Venables had just taken over there and Roach acted as agent for both men.
The following year he persuaded Monaco to buy Hateley for £1 million. Hoddle then joined the French club for €800,000.
Hughes paid cash for NO 4 Oxford Gate. but has never lived there himself.
He rented it to an Italian banker, Luigi Penna, at €400 a week until Penna bought it recently.
Hoddle also chooses to rent out NO 3 Oxford Gate.
Other residents in the road are furious at Roach.
They claim he has not arranged payment of the annual service charges on the stars' three homes. "His attitude towards us has been appalling, " said one resident. '
"Because of him we have even been forced to go to the courts to try and get the money owed to us."
The Premiership set up its investigation into the role of agents two weeks ago.
A commission of three people will make recommendations on how to improve transfer dealing.
Hateley, 32, said last night: "The house is an investment. It is rented out."