Peter Hounam Investigates
Daily Mirror, Friday, June 4, 1993
BOSSES at top football clubs could soon face criminal charges for paying backhanders and not declaring them to the taxman.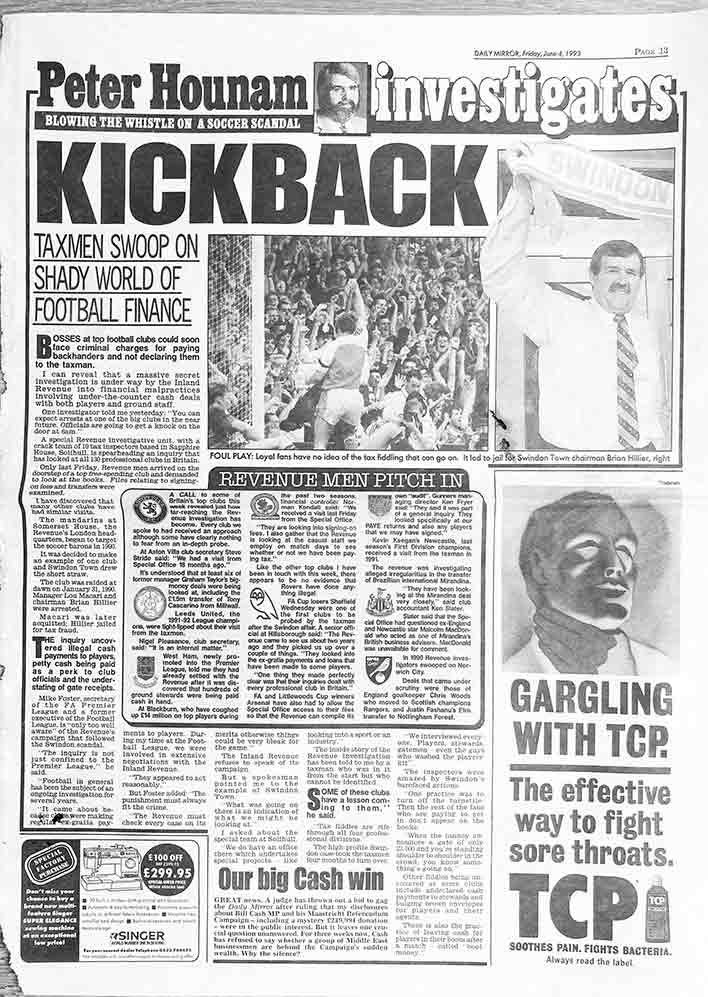 I can reveal that a massive secret investigation is under way by the Inland Revenue into financial malpractices involving under-the-counter cash deals with both players and ground staff.
One investigator told me yesterday: "You can expect arrests at one of the big clubs in the near future. Officials are going to get a knock on the door at 6am."
A special Revenue investigative unit, with a crack team of ten tax inspectors based in Sapphire House, Solihull, is spearheading an inquiry that has looked at all 130 professional clubs in Britain.
Only last Friday, Revenue men arrived on the doorstep of a top free-spending club and demanded to look at the books. Files relating to signing-on fees and transfers were examined.
I have discovered that many other clubs have had similar visits.
The mandarins at Somerset House, the Revenue's London headquarters, began to target the soccer barons in 1990.
It was decided to make an example of one club and Swindon Town drew the short straw.
The club was raided at dawn on January 31, 1990. Manager Lou Macari and chairman Brian Hillier were arrested. Macari was later acquitted; Hillier jailed for tax fraud.
THE inquiry uncovered illegal cash payments to players, petty cash being paid as a perk to club officials and the understating of gate receipts.
Mike Foster, secretary of the FA Premier League and a former executive of the Football League, is "only too well aware" of the Revenue's campaign that followed the Swindon scandal.
"The inquiry is not just confined to the Premier League," he said.
"Football in general has been the subject of an ongoing investigation for several years.
"It came about because clubs were making regula ex-gratia payments to players. During my time at the Football League, we were involved in extensive negotiations with the Inland Revenue. "They appeared to act reasonably."
But Foster added: "The punishment must always fit the crime.
The Revenue must check every case on its merits otherwise things could be very bleak for the game."
The Inland Revenue refuses to speak of its campaign. But a spokesman pointed me to the example of Swindon Town.
"What was going on there is an indication of what we might be looking at."
I asked about the special team at Solihull. "We do have an office there which undertakes special projects – like looking into a sport or an industry."
The inside story of the Revenue investigation has been told to me by a taxman who was in it from the start but who cannot be identified.
SOME of these clubs have a lesson coming to them, he said. "Tax fiddles are rife through all four professional divisions.
The high-profile Swindon case took the taxmen four months to turn over.
"We interviewed everyone. Players, stewards, gatemen – even the guys who washed the players kit".
The inspectors were amazed by Swindon's barefaced actions.
"One practice was to turn off the turnstile. Then the rest of the fans who are paying to get in don't appear on the books.
"When the tannoy announces a gate of only 23,000 and you're standing shoulder to shoulder in the crowd, you know some thing's going on.'
Other fiddles being uncovered at some clubs include undeclared cash payments to stewards and bulging brown envelopes for players and their agents.
There is also the practice of leaving cash for players in their boots after a match – called "boot money."
Revenue Men Pitch In
A CALL to some of Britain's top clubs this week revealed just how far-reaching the Revenue investigation has become. Every club we spoke to had received an approach although some have clearly nothing to fear from an in-depth probe.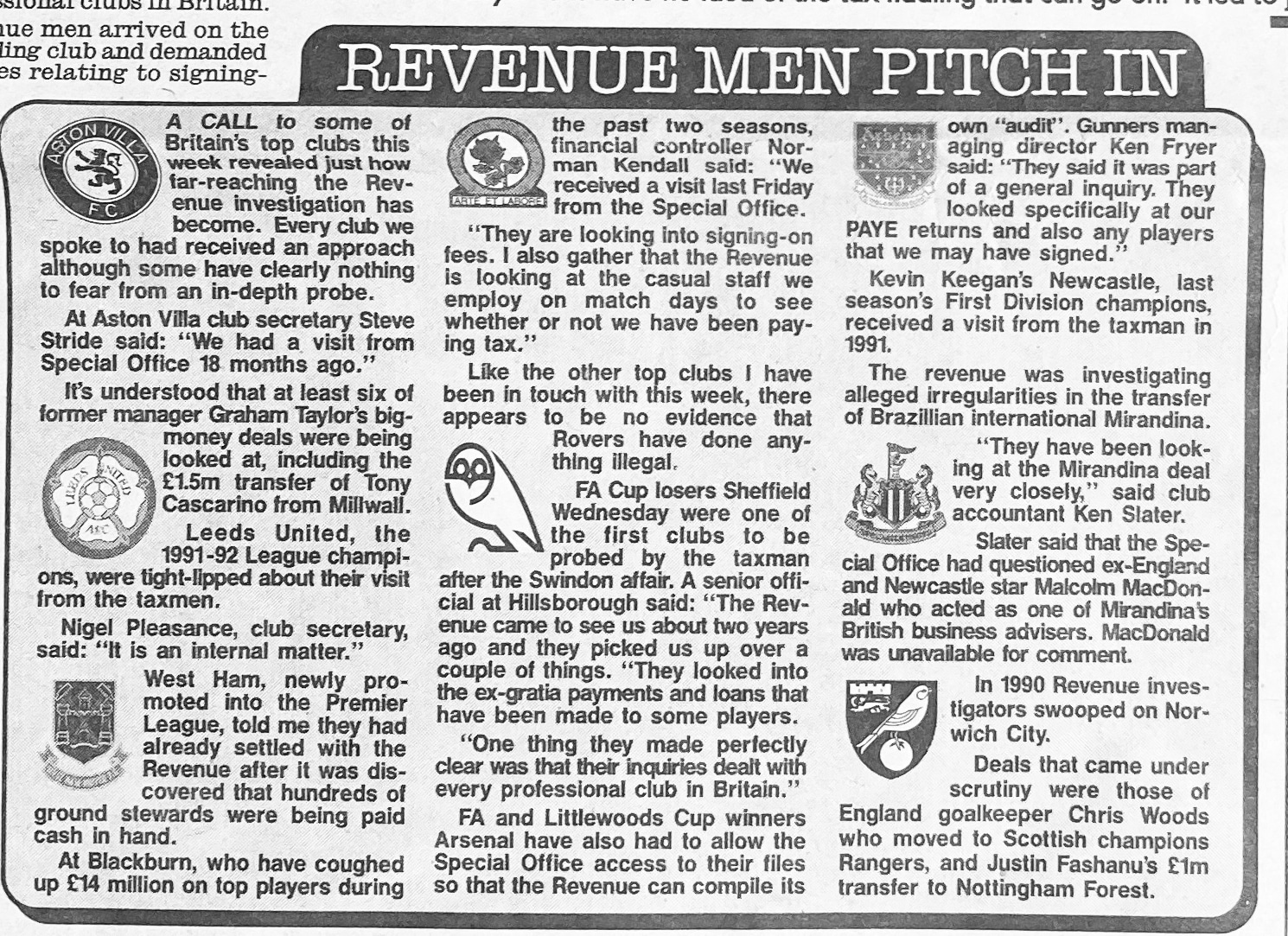 At Aston VIlla club secretary Steve Stride said: "We had a visit from Special Office 18 months ago."
It's understood that at least six of former manager Graham Taylor's money deals were being looked at, including the £L5m transfer of Tony Cascarino from Millwall.
Leeds United, the 1991-92 League champions were tight-lipped about their visit from the taxmen.
Nigel Pleasance, club secretary, said: "It is an internal matter."
West Ham, newly promoted into the Premier League, told me they had already settled with the Revenue after it was discovered that hundreds of ground stewards were being paid cash in hand. At Blackburn, who have coughed up £14 million on top players during the past two seasons, financial controller Norman Kendall said: "We received a visit last Friday from the Special Office. "They are looking into signing-on fees. I also gather that the Revenue is looking at the casual staff we employ on match days to see whether or not we have been paying tax."
Like the other top clubs I have been in touch with this week, there appears to be no evidence that Rovers have done anything illegal.
FA Cup losers Sheffield Wednesday were one of the first clubs to be probed by the taxman after the Swindon affair. A senior official at Hillsborough said: "The Revenue came to see us about two years ago and they picked us up over a couple of things. "They looked into the ex-gratia payments and loans that have been made to some players.
"One thing they made perfectly clear was that their inquiries dealt with every professional club in Britain."
FA and Littlewoods Cup winners Arsenal have also had to allow the Special Office access to their files so that the Revenue can compile its own "audit".
Gunners managing director Ken Fryer said: "They said it was part of a general inquiry. They looked specifically at our PAYE returns and also any players that we may have signed." Kevin Keegan's Newcastle, last season's First Division champions, received a visit from the taxman in 1991.
The revenue was investigating alleged irregularities in the transfer of Brazillian international Mirandina.
"They have been looking at the Mirandina deal very closely," said club accountant Ken Slater.
Slater said that the Special Office had questioned ex-England and Newcastle star Malcolm MacDonald who acted as one of Mirandina's British business advisers. MacDonald was unavailable for comment.
In 1990 Revenue investigators swooped on Norwich City. Deals that came under scrutiny were those of England goalkeeper Chris Woods who moved to Scottish champions Rangers, and Justin Fashanu's £1m transfer to Nottingham Forest.