By Peter Hounam and Alastair Law
Sunday Express, January 14, 1996
THE European Union faces new outrage this weekend over the revelation that it is spending millions of pounds creating embassies across the world.
The EU missions are being set up in some of the remotest places complete with £250,000 a year ambassadors with chauffeur driven limousines, official residences and generous expense accounts.
Many are in tropical paradises including Antigua, Granada, the Seychelles and Tonga.
Even on the tiny South Pacific sunspot of Fiji there is an EU up post with 13 staff.
The cost of running the overseas outpost now lands European taxpayers with 155 million a year built an average of more than 1 million for each embassy – a Sunday Express investigation can reveal.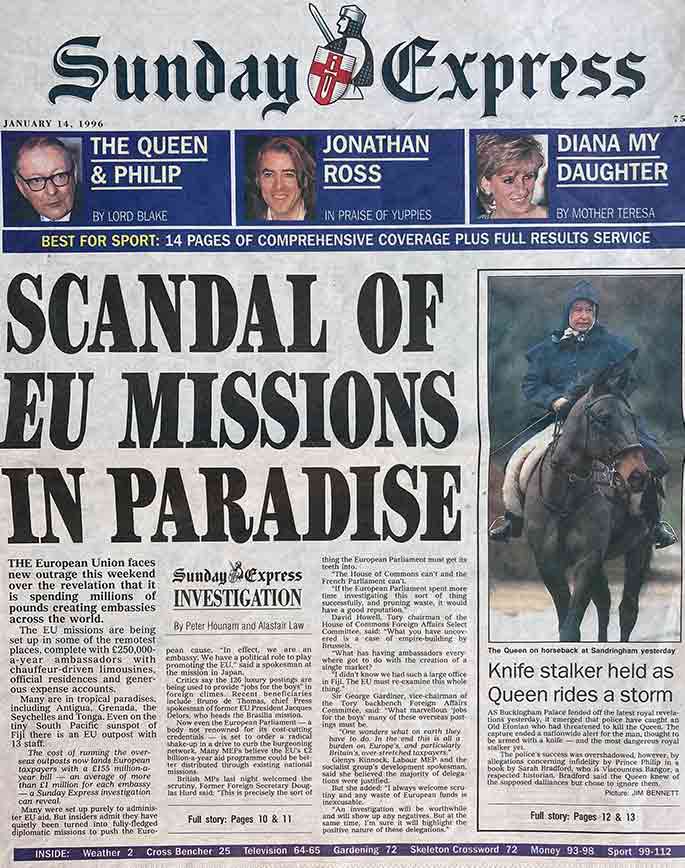 Many were set up purely to administer EU aid. But insiders admit they have quietly been turned into fully fledged diplomatic missions to push the European cause. "In effect, we are an embassy. We have a political role to play promoting the EU," said a spokesman at the mission in Japan.
Critics say the 126 luxury postings are being used to provide jobs for the boys in foreign climes. Recent beneficiaries included Bruno de Thomas chief press spokesman of former EU president Jacques Delors who heads the Brasilia mission.
Now even the European Parliament – a body not renowned for its cost-cutting credentials – is set to order a radical shake-up in a drive to curb the burgeoning network. Many MEPs believe the EU's £2 billion year ai program could be better distributed through existing national missions.
British MPs last night welcomed the scrutiny. Former Foreign Secretary Douglas Hurd said "This is precisely the sort of thing the European Parliament must get its teeth into.
"The house of commons and the French Parliament can't.
"Iff the European Parliament spent more time investigating this sort of thing successfully, and pruning waste, it would have a good reputation."
David Howell, of the House of Commons Foreign Affairs Select Committee, said: "What you have uncovered is a case of empire building by Brussels.
"What has having Ambassadors everywhere got to do with the creation of a single market?
"I didn't know we had such a large office in Figi. The EU must reexamine this whole thing."
Sir George Gardiner, vice-chairman of the Tory backbench Foreign Affairs Committee, said: "What marvellous jobs for the boys' many of these overseas postings must be."
"One wonders what on earth they have to do. In the end this is all a burden on Europe's, and particularly Britain's, overstretched taxpayers."
Glenys Kinnock, Labour MEP and the Socialist group's development spokesman, said she believed the majority of delegates were justified.
But she added: "I always welcome scrutiny and any waste of European funds is inexcusable.
An investigation will be worthwhile and will show up any negatives. But at the same time I'm sure it will highlight the positive nature of these delegations."