Peter Hounam Investigates
Daily Mirror, Friday, September 24, 1993
IT MAY look like a block of council flats in an inner city ghetto, but behind the bleak facade lie the palatial apartments of Russian president Boris Yeltsin.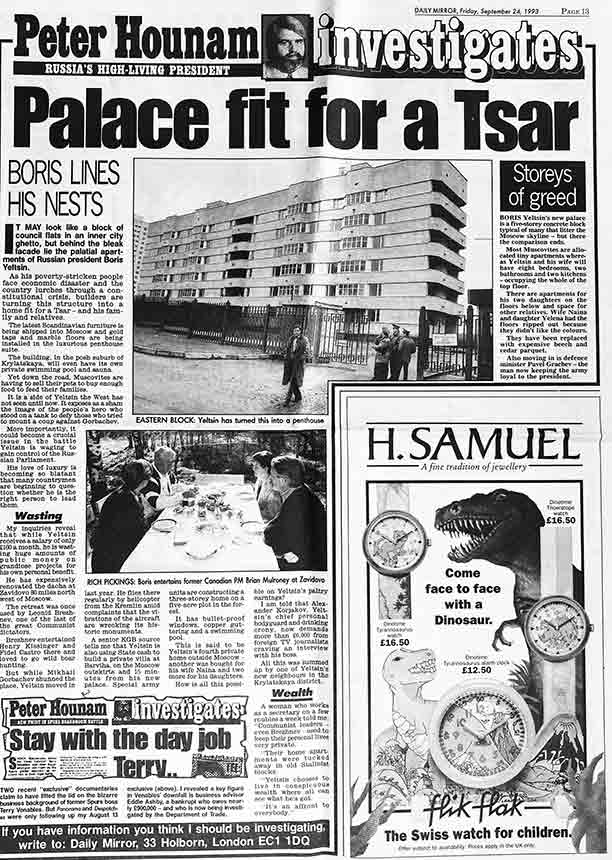 As his poverty-stricken people face economic disaster and the country lurches through a constitutional crisis, builders are turning this structure into a home fit for a Tsar — and his family and relatives.
The latest Scandinavian furniture is being shipped into Moscow and gold baps and marble floors are being Installed in the luxurious penthouse suite. The building, in the posh suburb of Krylatskaya, will even have its own private swimming pool and sauna.
Yet down the road, Muscovites are having to sell their pets to buy enough food to feed their families.
It is a side of Yeltsin the West has not seen until now. It exposes as a sham the image of the people's hero who stood on a tank to those who tried to mount a coup against Gorbachev. More importantly, it would become a crucial issue in the battle Yeltsin is waging to control the Russian Parliament.
His love of luxury is becoming so blatant that many countrymen are beginning to question whether he is the right person to lead them.
Wasting
My inquiries reveal that while Yeltsin receives a salary of only £160 a month, he is wasting huge amounts of public money on grandiose projects for his own personal benefit.
He has extensively renovated the dacha at Zavidovo 80 miles north west of Moscow.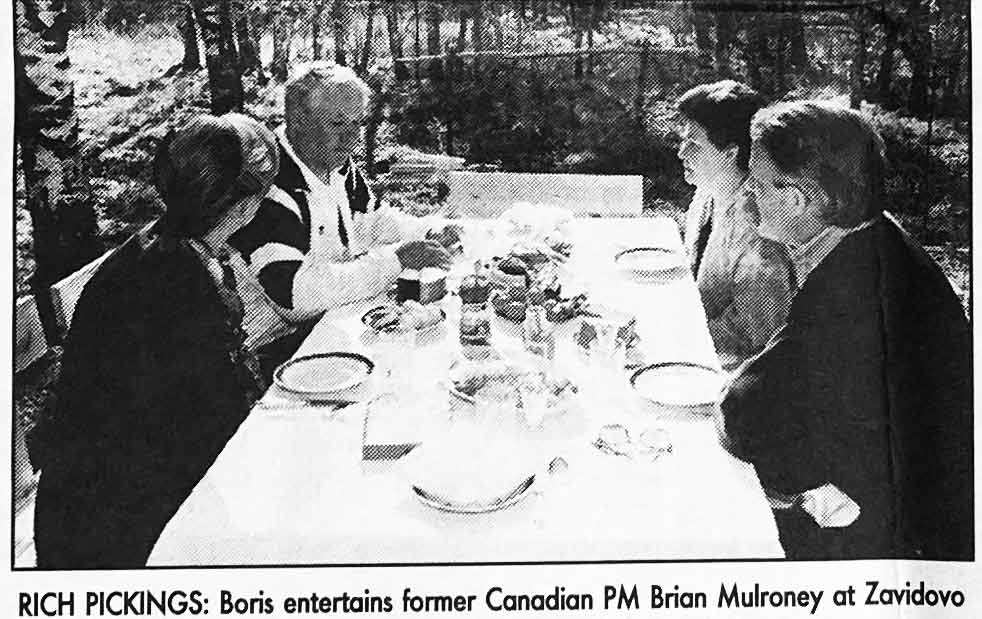 The retreat was once used by Leonid Brezhnev, one of the last of the great Communist dictators.
Brezhnev entertained Henry Kissinger and Fidel Castro there and loved to go wild boar hunting. But while Mikhail Gorbachev shunned the place, Yeltsin moved in last year.
He flies there regularly by helicopter from the Kremlin amid complaints that the vibrations of the aircraft are wrecking its historic monuments.
A senior KGB source tells me that Yeltsin is also using State cash to build a private villa at Barviha, on the Moscow outskirts and 15 minutes from his new palace. Special army units are constructing a three-storey home on a five-acre plot in the forest.
It has bullet-proof windows, copper guttering and a swimming pool. This is said to be Yeltsin's fourth private home outside Moscow – another was bought for his wife Naina and two more for his daughters.
How is all this possible on Yeltsin's paltry earnings? I am told that Alexander Korjakov, Yeltsin's chief personal bodyguard and drinking crony, now demands more than £6,000 from foreign TV journalists craving an interview with his boss.
All this was summed up by one of Yeltsin's new neighbours in the Krylatskaya district.
Wealth
A woman who works as a secretary on a few roubles a week told me:
"Communist leaders – even Brezhnev – used to keep their personal lives very private. "Their home apartments were tucked away in old Stalinist blocks.
"Yeltsin chooses to live in conspicuous wealth where all can see what he's got.
"It's an affront to everybody."
Yeltsin's new palace is a five-storey concrete block typical of many that litter the Moscow skyline — but there comparison ends.
Most Muscovites are allocated tiny apartments where as Yeltsin and his wife will have eight bedrooms, two bathrooms and two kitchens – occupying the whole of the top floor.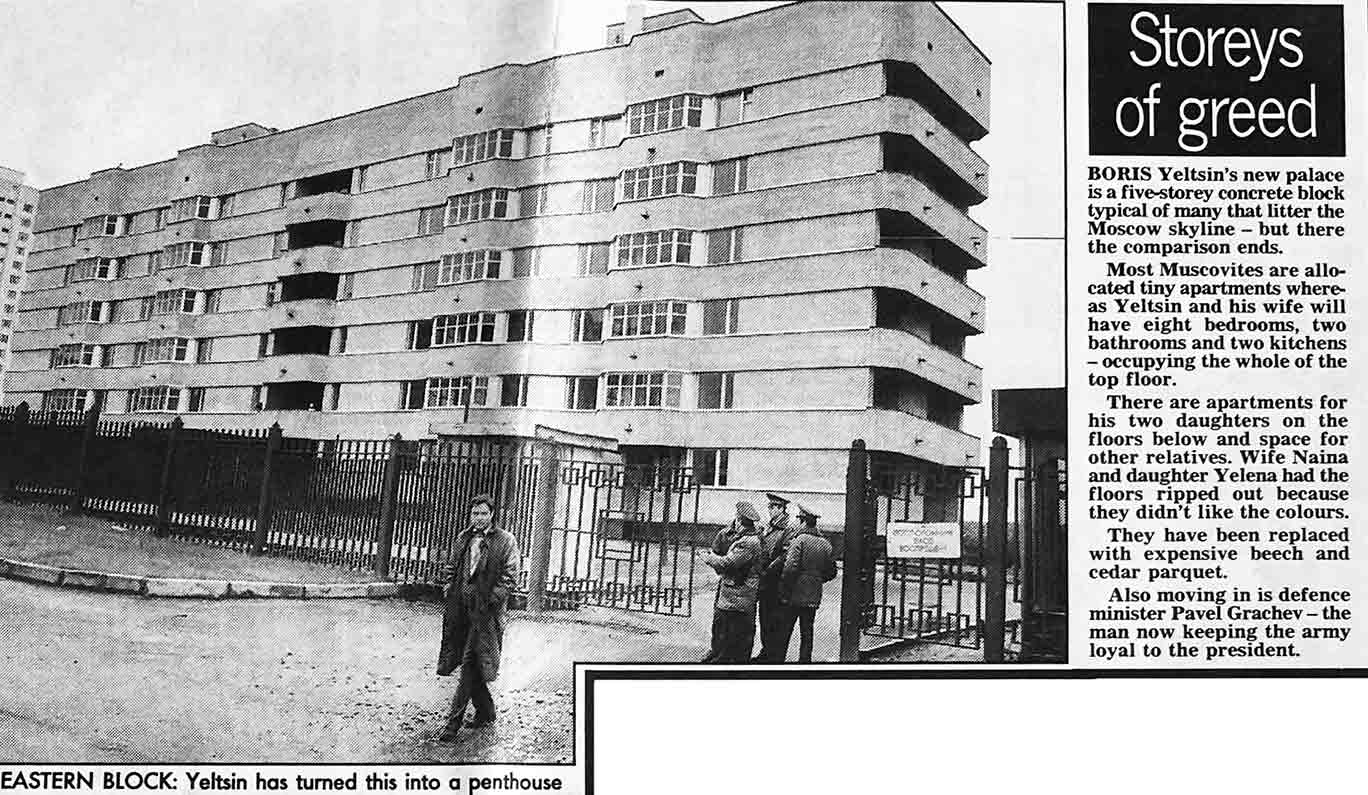 There are apartments for his two daughters on the floors below and space for other relatives.
Wife Naina and daughter Yelena had the floors ripped out because they didn't like the colours.
They have been replaced with expensive beech and cedar parquet.
Also moving in is defence minister Pavel Grachev — the man now keeping the army loyal to the president.