Daily Mirror, Friday, September 10, 1993
INLAND REVENUE inspectors are using aggressive new techniques that pressurise even innocent taxpayers into confessing to being tax dodgers. A Sunday Times investigation has discovered confidential internal training manuals that instruct tax inspectors in the techniques of exploiting people's weaknesses, in how to trap taxpayers into meetings they do not have to attend, and how to get them to admit to fiddling even when they have paid their due.
Many of the 97 workers at the plant, 200 yards from Labour Party headquarters in Walworth Road, face redundancy.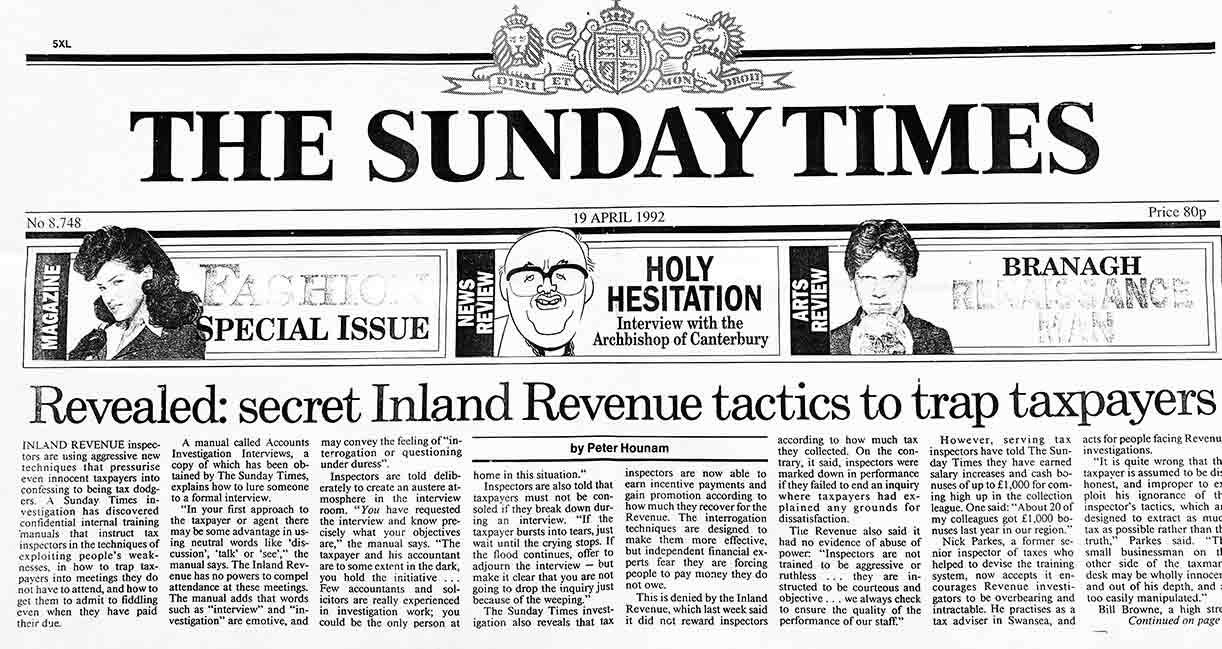 Raided
The firm's headquarters in Derby has already been raided by detectives from the Nottingham Constabulary and a large quantity of documents were seized. 
But it continues to flourish even though several local councils are threatening legal action. The company argues that it is not breaking the law because it makes clear it is not a registered charity. 
It also says that the Charity Acts do not apply to its operations because it is not working on behalf of registered charities. 
Richards set up Friends of Yours Ltd in March. When I rang him this week he referred me to his "legal adviser" Ralph Kissack, who is a struck-off solicitor working for the company for nothing because he is on a sponsored employment training scheme. 
Kissack said that salesmen and women – who operate from Surrey to  Lancashire – earn £100 to £150 a week. 
This contrasted with what he had told a Mirror colleague who had rung up FOY asking for a job a few days earlier. 
THE former lawyer told him that they employed 40 "collectors" who each earned up to £500 a week. 
"A collector should be able to raise every week and will be allowed to keep 30 per cent as wages," he said. "We keep the rest."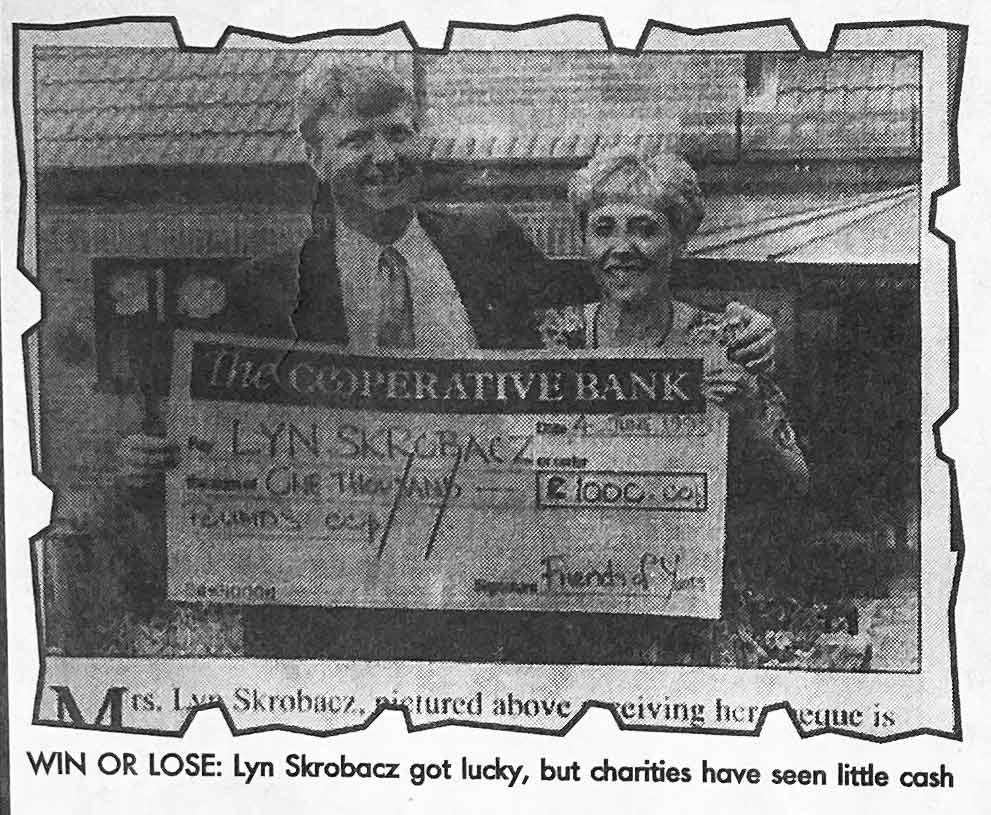 Kissack stressed that his company tried to operate within the law, but added: "Sometimes the law is an ass and you have to change the rules." 
When I eventually managed to speak to Richards I asked him about his background. 
"I have done lots of things: Worked in a foundry and sold smoke alarms," he said. "Then I had a bit of personal bother." He refused to elaborate. 
He also refused to tell me how much his company had been taking but he admitted he had so far been able to donate "horrendously little" to charity because he was "ploughing money back into building up the company". 
He seems unconcerned that the police are showing so much interest. 
"We accept we had a visit from the Old Bill but we have done nothing wrong," he told me confidently.
'They Said it was a Charity'
THE booklets say that Friends of Yours is not a charity, but people seem to have got a different impression from the firm's sales team.
Charles Binham, who runs a garden centre at Mickleover, near Derby, put an advertisement in the booklets. 
"I was told it was a registered charity," he said. "There are too many fundraising scandals."
The firm even took in Lyn Skrobacz, who won £1000 in one of the competitions.
"When I bought a booklet, I thought all the money was going to charity after administration expenses," she told me. "They said they were working for charity."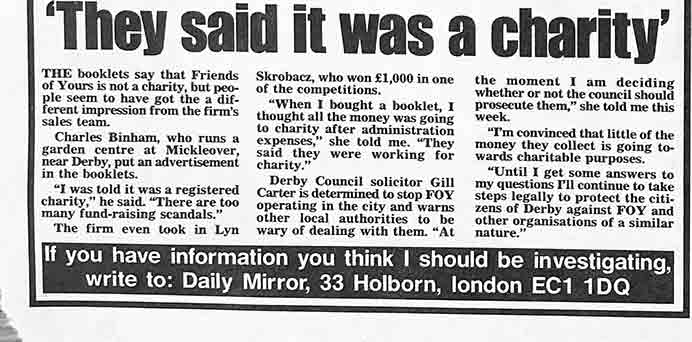 Derby Council solicitor Gill Carter is determined to stop FOY operating in the city and warns other local authorities to be wary of dealing with them. "At the moment I am deciding whether or not the council should prosecute them," She told me this week.
"Im convinced that little of the money they collect is going towards charitable purposes.
"Until I get some answer to my questions I'll continue to take steps legally to protect the citizens of Derby against FOY and other organisations of a similar nature."
Sunday Times, April 19 1992
A manual called Accounts Investigation Interviews, a copy of which has been obtained by The Sunday Times, explains how to lure someone to a formal interview. "In your first approach to the taxpayer or agent there may be some advantage in using neutral words like 'discussion', 'talk' or 'see', " the manual says. The Inland Revenue has no powers to compel attendance at these meetings.  The manual adds that words such as "interview" and "investigation" are emotive, and may convey the feeling of "interrogation or questioning under duress".
Inspectors are told deliberately to create an austere atmosphere in the interview room. "You have requested the interview and know precisely what your objectives are," the manual says. "The taxpayer and his accountant are to some extent in the dark, you hold the initiative…
Few accountants and solicitors are really experienced in investigation work; you could be the only person at home in this situation."
Inspectors are also told that taxpayers must not be consoled if they break down during an interview. "If the taxpayer bursts into tears, just wait until the crying stops. If the flood continues, offer to adjourn the interview — but make it clear that you are not going to drop the inquiry just because of the weeping."
The Sunday Times investigation also reveals that tax inspectors are now able to earn incentive payments and gain promotion according to how much they recover for the Revenue. 
The interrogation techniques are designed to make them more effective, but independent financial experts fear they are forcing people to pay money they do not owe.
This is denied by the Inland Revenue, which last week said it did not reward inspectors according to how much tax they collected. On the contrary, it said, inspectors were marked down in performance if they failed to end an inquiry where taxpayers had explained any grounds for dissatisfaction.
Tile Revenue also said it had no evidence of abuse of power: "Inspectors are not trained to be aggressive or ruthless they are instructed to be courteous and objective … we always check to ensure the quality of the performance of our staff."
However, serving tax inspectors have told The Sun-day Times they have earned salary increases and cash bonuses of up to E 1,000 for coming high up in the collection league. One said: "About 20 of my colleagues got £1,000 bonuses last year in our region."
Nick Parkes, a former senior inspector of taxes who helped to devise the training system, now accepts it encourages Revenue investigators to be overbearing and intractable. He practises as a tax adviser in Swansea, and acts for people facing Revenu investigations.
"It is quite wrong that the taxpayer is assumed to be dishonest and improper to exploit his ignorance of the inspector's tactics, which are designed to extract as much tax as possible rather than the truth," Parkes said. "The small businessman on the other side of the taxman's desk may be wholly innocent and out of his depth, and way too easily manipulated."