The Sunday Times, October 27, 1991
There is more than spies, arms and secrets behind the latest scandal to rock the Mirror group.
As the sun set over foreign editor of the Daily Mirror, mused on the next day's task: "a visit to a crocodile farm by John Major, who was limping after a prime ministerial PM?" he pondered.
Dapper in open-necked shirt and slacks, Davies ordered tea in the bar of his hotel, upbraided the waiter for having no fruit cake, and settled back into his favourite routine: loudly recounting his Travels with Cap'n Bob to fellow hacks covering the Commonwealth prime ministers' conference.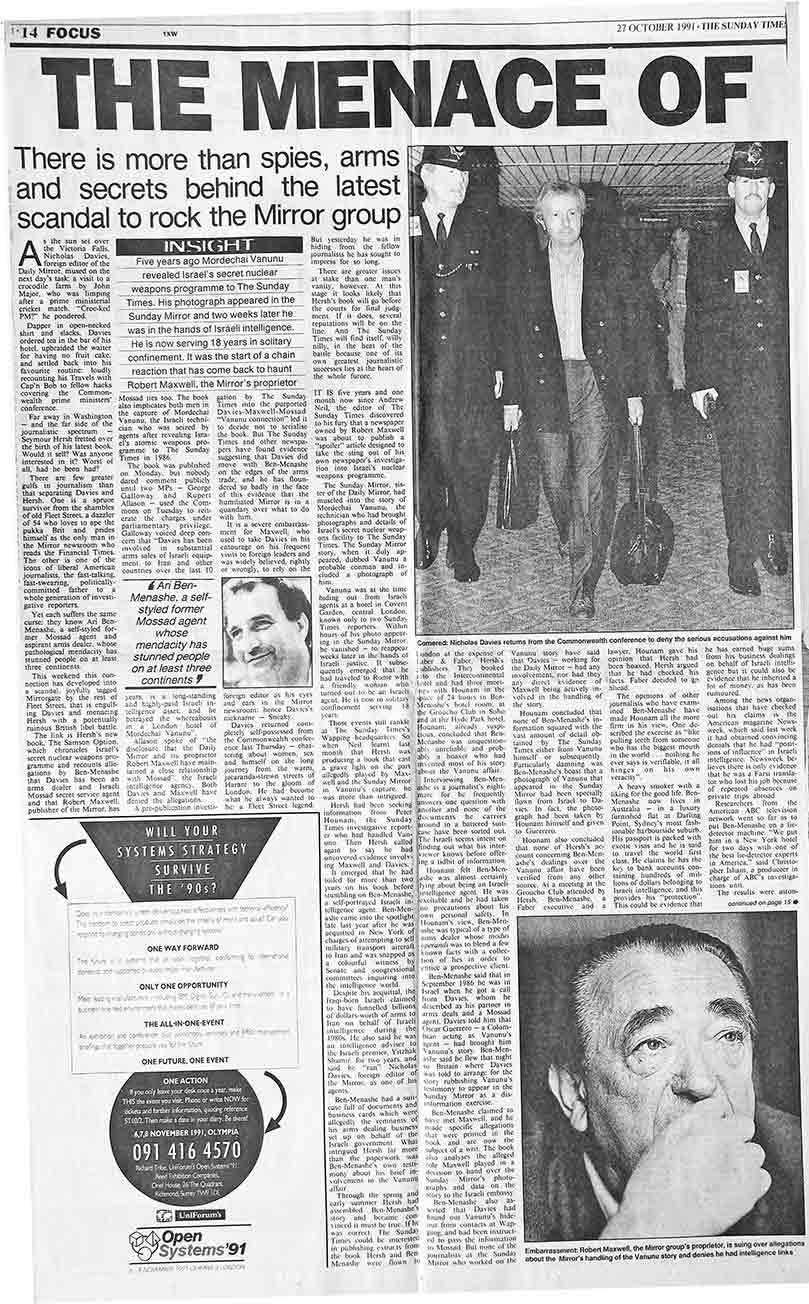 Far away from Washington — and the far side of the journalistic spectrum – Seymour Hersh fretted over the birth of his latest book. Would it sell? Was anyone interested in it? Worst of all, had he been had? There are few greater gulß in journalism than that separating Davies and Hersh.
One is a spruce survivor from the shambles of old Fleet Street, a dazzler of 54 who loves to ape the pukka Brit and prides himself as the only man in the Mirror newsroom who reads the Financial Times.
The other is one of the icons of liberal American journalists, the fast-talking, fast-swearing, politically- committed father to a whole generation of investigative reporters. Yet each suffers the same curse: they know Ari Ben-Menashe, a self-styled former Mossad agent and aspirant arms dealer, whose pathological mendacity has  stunned people on at least three continents.
This weekend this connection has developed into a scandal, joyfully lagged Mirrorgate by the rest of Fleet Street, that is engulfing Davies and menacing Hersh with a potentially ruinous British libel battle.
The link is Hersh's new book, The Samson Option, which chronicles Israel's secret nuclear weapons programme and recounts allegations by Ben-Menashe that Davies has been an arms dealer and Israeli Mossad secret service agent and that Robert Maxwell, publisher of the Mirror, has Mossad ties too.
The book also implicates both men in the capture of Mordechai Vanunu, the Israeli technician who was seized by agents after revealing Israel's atomic weapons programme to The Sunday Times in 1986.
The book was published on Monday, but nobody dared comment publicly until two MPs — George Galloway and Rupert Allason — used the Commons on Tuesday to reiterate the charges under parliamentary privilege. Galloway voiced deep concern that "Davies has been involved in substantial arms sales of Israeli equipment to Iran and other countries over the last 10 years.
Five years ago Mordechai Vanunu revealed Israel's secret nuclear weapons programme to The Sunday Times. His photograph appeared in the Sunday Mirror and two weeks later he was in the hands of Israeli intelligence. He is now serving 18 years in solitary confinement.
It was the start of a chain reaction that has come back to haunt Robert Maxwell, the Mirror's proprietor. Ari Ben- Menashe, a self- styled former Mossad agent whose mendacity has stunned people on at least three continents years, is a long-standing and highly-paid Israeli intelligence asset, and he betrayed the whereabouts in a London hotel of Mordechai Vanunu". Allason spoke of "the disclosure that the Daily Mirror and its proprietor Robert Maxwell have maintained a close relationship with Mossad", the Israeli intelligence agency.
Both Davies and Maxwell have denied the allegations. A pre-publication investigation by The Sunday Times into the purported Davies-Maxwell-Mossad "Vanunu connection" led it to decide not to serialise the book.
But The Sunday Times and other newspapers have found evidence suggesting that Davies did move with Ben Menashe on the edges of the arms trade, and he has floundered so badly in the face of this evidence that the humiliated Mirror is in a quandary over what to do with him. It is a severe embarrassment for Maxwell, who used to take Davies in his entourage on his frequent visits to foreign leaders and was widely believed, rightly or wrongly, to rely on the foreign editor as his eyes and ears in the Mirror newsroom: hence Davies's nickname — Sneaky.
Dawes returned completely self-possessed from the Commonwealth conference last Thursday — chattering about women, sex and himself on the long journey from the warm, jacaranda-strewn streets or Harare to the gloom of London. He had become what he always wanted to be: a Fleet Street legend, But yesterday he was in hiding from the fellow journalists he has sought to Impress for so long. There are greater issues at stake than one man's vanity, however.
At this Hersh's book will go before the courts for final judgment. If it does, several reputations will be on the line, And The Sunday Times will find itself, willy nilly, in the heat of the battle because one of its own greatest journalistic successes lies at the heart of the whole furore, IT IS five years and one month now since Andrew Neil, the editor of The Sunday Times discovered to his fury that a newspaper owned by Robert Maxwell was about 'to publish a "spoiler" article designed to take the sting out of his own newspapers investigation into Israel's nuclear weapons programme.
The Sunday Mirror, sister of the Daily Mirror, had muscled into 'the story of Mordechai Vanunu, the technician who had brought photographs and details of Israel's secret nuclear weapons facility to The Sunday Times. The Sunday Mirror story, when it duly appeared, dubbed Vanunu a probable conman and included a photograph of him.  Vanunu was at the time hiding out from Israeli agents at a hotel in Covent Garden, central London, known only to two Sunday Times reporters.
Within hours or his photo 'appearing in the Sunday Mirror, -he vanished — to reappear weeks later in the hands of Israeli justice, It subsequently emerged that he had traveled to Rome with Comered:  Nicholas Davies returns from the Commonwealth conference to deny the serious accusations against him London at the expense of Vanunu story have said Faber & Faber, 'Heßh's for lishers.
They booked the Daily Mirror — had any the Intercontinental involvement,' or had they a , friendly woman who \ otel_and had !hree meet- any direct evidence -of -turned out .10 be an Israel' gs with Hounam in beiiV -in- agent.
He is now in solita confinement serving I $ years. Those events still rankle at The Sunday Times's Wapping headquarters. So when Neil learnt last month that Hersh was producing a book that cast a grave light on the part allegedly played by Maxwell and the Sunday Mirror in Vanunu's capture, he was more than intrigued. Hersh had been seeking information from Peter Hounam, the Sunday Times investigative reporter who had handled Vanunu.
Then Hersh called again to say he had uncovered evidence involving Maxwell and Davies, It emerged that he had toiled for more than two years on his book before stumbling on Ben-Menashe, a self-portrayed Israeli intelligence agent.
Ben-Menashe came into the spotlight late last year after he was acquitted in New York of charges of attempting 10 scll military transport aircraft to Iran and was snapped as a colourful witness by Senate and congressional committees inquiring intelligence world.
Despite his acquittal, the Iraqi-born Israeli claimed to have funnelled billion of dollars-worth of arms to Iran on behalf of Israeli intelligence during the 1980s, He also said he was an intelligence adviser to the Israeli premier, Yitzha Shamir, for two years, and said he 'ran' Nichola Davies, foreign editor of the Mirror, as one of his agents.
Ben-Menashe had a suitcase full of documents and business cards which were allegedly the remnants of his arms dealing business setup on behalf of the Israeli government.  What intrigued Hersh far more than the paperwork Ben-Menashe's own testic mony about his prior involvement in the Vanunu affair.
Through the spong an early summer Hersh assembled Ben-Menashef story and became convinced it must be true. If he was correct, The Sunday Times could be interested in publishing extracts from the book, Hersh and Ben Menashe were flown ) ace ol' 24 hours in Ben-Menashe's hotel room, at the Groucho Club in Soho at the Hyde Park hotel. Hounam, already suspicious, concluded that Ben-Menashe was unquestionably unreliable and probably a hoaxer who had vented most or his story about out the Vanunu affair.
Interviewing Ben-Men- he is a journalist's night- are for he frequently answers one question with another and none of the documents he carries round in a battered suitcase have been sorted out. The Israeli seems intent on finding out what his inter- iewer knows before offering a tidbit of information. Hounam felt Ben-Menashe was almost certainly lying about being an Israeli intelligence agent.
He was excitable and he had taken no precautions about his own personal safety. In Hounam's view, Ben-Menashe was typical Of a type of arms dealer whose modus operandi was to blend a few known facts with a collection or lies in order to entice a prospective client. Ben-Menashe said that in September 1986 he was in Israel when he got a call from Davies, whom he described as his partner in arms deals and a Mossad agent. Davies told him that Oscar Guerrero — a Colom- bian acting as Vanunu's agent — had brought him Vanunu's story.
Ben-Menashe said he flew that night to Britain where Davies was told to arrange for the story, rubbishing Vanunu's testimony to appear in the Sunday Mirror as a disinformation exercise. Ben-Menashe claimed to have met Maxwell, and he made specific allegations that were printed in the book and are now the subject or a writ.
The book also analyses the alleged role Maxwell played in a decision to hand over the Sunday Mirror, photographs and data on the story to [he Israeli embassy. Ben-Menashe also asserted that Davies had found out Vanunu's hide- out from contacts at Wapping, and had been instructed to pass the information to Mossad.
But none of the Journalists at the Sunday Mirror who worked on the volved in the handling of the story. Hounam concluded that none of Ben-Menashe's information squared with the vast amount of detail obtained by The Sunday Times either from Vanunu himself or subsequently. Particularly damning was Ben-Menashe's boast that a photograph of Vanunu that appeared in the Sunday Mirror had been specially flown from Israel to Davies,
In fact, the photograph had been taken by Hounam himself and given to Guerrero. Hounam also concluded that none of Hersh's account concerning Ben-Menashe's dealings over the Vanunu affair have been verified from any other source. At a meeting at the Groucho Club attended by Iåwyers Hounam gave his ' opinion that Hersh had been 'hoaxed. Hersh argued that he had checked his facts. Faber decided to go Shead. The opinions of other journalists who have examined Ben-Menashe have made Hounam all the more firm in his view.
One described the exercise as "like pulling teeth from someone who has the biggest mouth in the world, nothing he ever says is verifiable, it all hinges on his own veracity".
A heavy smoker with a liking for the good life, Ben- Menashe now lives in Australia in a luxury furnished flat at Darling Point, Sydney's most fashionable harbourside suburb. His passport is packed with exotic visas and he is said to travel the world first class. He claims he has the key to bank accounts containing hundreds of millions of dollars belonging to Israeli intelligence, and this provides his "protection",
This could be evidence that he earned huge sums from his business dealings on behalf of Israeli intelligence but it could also be evidence that he inherited [lot Of money as has been rumoured. Among the news organisations that have checked out his claims is the American magazine Newsweek, which said last week it had obtained convincing denials that he had "positions of influence" in Israeli intelligence.
Newsweek believes there is only evidence that he was a Farsi translator who lost his job because of repeated absences on private trips abroad. Researchers from the American ABC television network went so far as to put Ben-Menashe on a lie- detector machine, "We put him in a New York hotel for two days with one of the best lie-detector experts in America," said Christopher Isham, a producer in charge or ABCs investigations unit.
The results were astonishingly consistent: on a scale of unreliability from hero to minus eight, "on every major question Ben Menashe recorded either minus eight or minus seven — showing he was clearly trying to deceive us"
"The biggest negative reading came when we asked him if he had been telling us the truth for the previous two months. It nearly went off the scale."
WHERE does this leave Hersh and Davies? Hersh, 54, has a reputation in America as both a combative reporter and as a fanatical fact-checker. He competes with Bob Woodward — of Watergate fame — for the crown as the nation's top investigative journalist.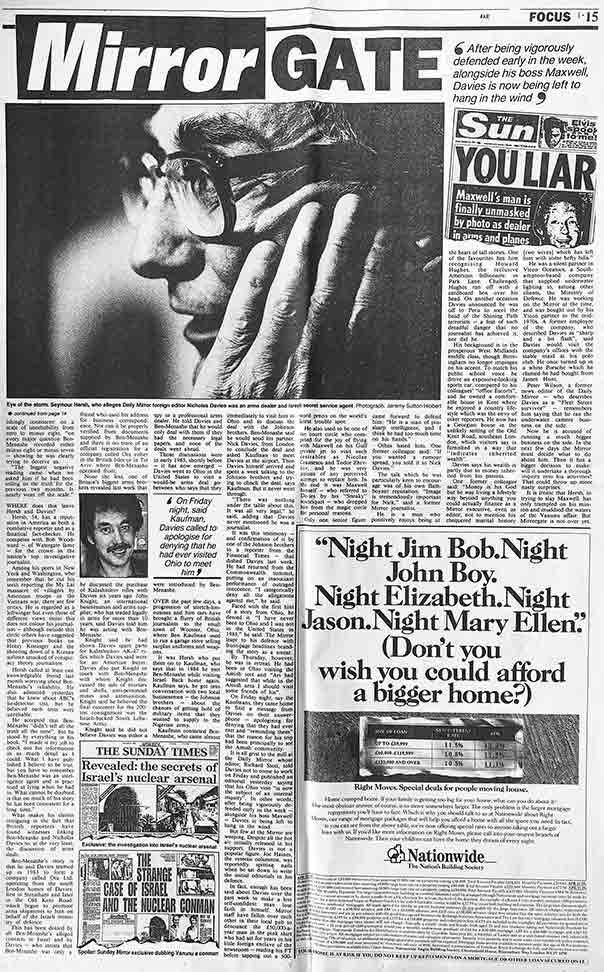 Among his peers in New York and Washington, who remember that he cut his teeth reporting the My Lai massacre of villagers by American troops in the Vietnam war, there are few critics. He is regarded as a left winger but even those of different views insist this does not colour his journalism — although outside this circle others have suggested that previous books on Henry Kissinger and the shooting down of a Korean airliner smacked of conspiracy theory journalism.
Hersh called at least one knowledgeable friend last month worrying about Ben  Menashe's reliability. He also admitted yesterday that he knew about ABCs lie-detector test, but he believed such tests were unreliable. He accepted that Ben  Menashe "didn't tell all the truth all the time", but he stood by everything in his book.
"I made it my job to check out his information in as much detail as I could. What I have published I believe to be true, Ben-Menashe was an intelligence agent and is practised at lying when he had to. What cannot be doubted – is that on much of his story he has been consistent for a long time."
What makes his claims intriguing is the fact that British reporters have found witnesses linking Ben Menashe and Nicholas Davies to, at the very least, deals.
Ben-Menashe's story is that he and Davies teamed up in 1983 to form a company called Ora Ltd, operating from the south London homes of Davies, first in Streatham and later in the Old Kent Road, which began to promote arms shipments to Iran on behalf of the Israeli ministry of defence.
This has been denied by all Ben-Menashe's alleged contacts in Israel and by Davies — who insists that Ben-Menashe was only a friend who used his address for business correspondence.
Nor can it be properly verified from documents supplied by Ben-Menashe and there is no trace of a company called Ora either in the British Isles or in Telaviv where it operated from. Nonetheless, one of Britain's biggest arms brokers revealed last week that he discussed the purchase of Kalashnikov rifles with Davies six years ago. John Knight, an international businessman and arms supplier, who has traded legally in arms for more than 10 years, said Davies told him he was acting with Ben-Menashe.
Knight said he had shown Davies spare parts for Kalashnikov AK-47 rifles which Davies said were for an American buyer.
Davies also put Knight in touch with Ben Menashe with whom Knight discussed the sale of mortars and shells, anti-personnel mines and ammunition. Knight said he believed the final customer for the 200 ton consignment was the Israeli-backed South Lebanese Army.
Knight said he did not believe Davies was either a spy or a professional arms dealer. immediately to visit him in word precisely on the world's coming forward to defend the dealer. He told Davies and Ben-Menashe that he would deal with them if he had the necessary legal papers, and none of the deals went ahead.
These discussions took place in early 1985, shortly before – it has now emerged – Davies went to Ohio in the United Statesto visit a would be arms deal go between, who says they were introduced by Ben-Menashe.
Over the past few days, a progression of stretch-limousines and hire cars have brought a flurry of British journalists to the small town of Wooster, Ohio, where Ben Kaufman used to run a garage store selling surplus uniforms and weapons.
It was Hersh who put them on to Kaufman, who says that in 1984 he met Ben-Menashe while visiting Israel. Back home again, Kaufman says, he got into conversation with two local business men – the Johnson brothers – about the chances of getting hold of military items that they wanted to supply to the Nigerian army.
Kaufman contacted Ben Menashe, who came almost immediately to visit him in Ohio and to discuss the deal with the Johnson brothers. Ben- Menashe said he would send his partner, Nick Davies, from London to conclude the deal and asked Kaufman to meet Davies at the trying to clinch the deal, says Kaufman. But it never went through.
"There was nothing under the table about this. It was all very legal," he said, adding that Davies never mentioned he was a journalist. It was this testimony — and confirmation of it by one of the Johnson brothers to a reporter from the Financial Times — that dished Davies last week.
He had returned from the Commonwealth summit, putting on an insouciant performance of outraged Innocence. "I categorically deny all the allegations against me," he said.
Faced with the first hint of a story from Ohio, he denied it. "I have never been to Ohio and I was not in the United States in 1985," he said.
The Mirror leapt to his defence with front-page headlines branding the story as a smear. By Thursday, however, he was in retreat. He had been in Ohio visiting the Amish sect and "Ari had suggested that while in the Amish area I should visit some friends of his".
On Friday night, say the Kaufmans, they came home to find a message from Davies on their answer- — apologising  for denying that they had ever met and "reminding them" that the reason for his trip had been principally to see the Amish community.
It is all grist to the mill at the Daily Mirror whose editor, Richard Stott, told Davies not to come to work on Friday and published an editorial yesterday saying that his Ohio visit "is now the subject of an internal inquiry". In other words, after being vigorously defended early in the week — alongside his boss Maxwell — Davies is being left to hang in the wind. But few at the Mirror are weeping. Despite all the hot air initially released in his support, Davies is not a popular figure. Joe Haines, the veteran columnist, was reportedly spitting nails when he sat down to write the initial editorials in his defence.
In fact, enough has been said about Davies over the past week to make a less self-confident man lose faith in himself. Mirror staff have fallen over each other in their local pub to denounce the year man in the pink shirt who had sat for years in his little foreign enclave of the newsroom — reading his FT before tapping out a 500 word precis on the world's latest trouble spot.
He also used to be one of the court circle who competed for the joy of flying with Maxwell on his Gulf private jet to visit such desirables as Nicolae Ceausescu and Todor Zhivkov, and he was very jealous of any perceived attempt to replace him.
In the end it was Maxwell himself – who referred to Davies by his "Sneaky" sobriquet -who dropped him from the magic circle for personal reasons.
Only one senior figure came forward to defend him: "He is a man of pin-sharp intelligence, and I think he had too much time on his hands."
Others hated him. One former colleague said: "If you wanted a rumour spread, you told it to Nick Davies."
The talk which he was particularly keen to encourage was of his own flamboyant reputation. "Image is tremendously important for Nick," said a former Mirror journalist.
He is a man who positively enjoys being at the heart of tall stories. One of the favourites has him recognising Howard the reclusive Hughes, American billionaire, in Park Lane. Challenged, Hughes ran off with a cardboard box over his head.
On another occasion Davies announced he was off to Peru to meet the head of the Shining Path terrorists — a feat of such dreadful danger that no journalist has achieved it; nor did he. His background is in the prosperous West Midlands middle class, though Birmingham no longer impinges on his accent.
To match his public school voice he drove an expensive-looking sports car, compared to his colleagues' "office Escorts", and he owned a comfortable house in Kent where he enjoyed a country lifestyle which was the envy of other reporters. He now has a Georgian house in the unlikely setting of the Old Kent Road, southeast London, which visitors say is furnished in a way that "indicates inherited wealth".
Davies says his wealth is partly due to money inherited from his parents. One former colleague said "Money is his God" but he was living a lifestyle way beyond anything you could actually finance as a Mirror executive, even as editor, not to mention his chequered marital history [two wives] which has left him with some hefty bills.
He was a silent partner in Vicon Oceanics, a Southampton based company that supplied underwater lighting to, among other clients, the Ministry of Defence. He was working on the Mirror at the time, and was bought out by his Vicon partner in the mid 1970s.
A former employee of the company, who described Davies as "sharp and a bit flash", said Davies would visit the company's offices with the stable maid at his polo club.
He once turned up in a white Porsche which he claimed he had bought from James Hunt.
Peter Wilson, a former news editor of the Daily Mirror — who describes Davies as a "Fleet Street survivor" remembers him saying that he ran the underwater camera business on the side.
Now he is accused of running a much bigger business on the side. In the next few days the Mirror must decide what to do about him. Then it has a bigger decision to make: will it undertake a thorough inquiry into his activities? That could throw up more nasty surprises. It is ironic that Hersh, in trying to slay Maxwell, has only trampled on his minion and muddied the waters of the Vanunu affair. But Mirrorgate is not over yet.