Peter Hounam Investigates
Daily Mirror, Friday, June 4, 1993
IT IS difficult to keep a family together when you are in Britain and your wife and kids are stuck in Fiji.
That, however, is how the British Government wants Dennis Culver to live. He cannot get even a tourist visa for his wife, Watti, to come to this country.
The official reason has all to do with money — bureaucrats complain he could not support her because he is unemployed.
Culver's plight makes a mockery of Tory claims that they back "family values".
He has spent four years trying to win permission for Watti to come here — and failed at every attempt.
IRONICALLY, their two children, aged 11 and five, have been granted British passports and could be living with Culver right now. But Watti is barred — and Dennis suspects the fact she is black is secretly a factor.

Culver, 43, was born and bred in this country. He fell in love with Watti in Fiji. "I met a beautiful woman on my travels," he says.
"I wanted to bring her and our children back to Britain.
There Was a lot of soul-searching and talking, but we decided to do it.
"We applied for a three-year visa to see if Watti liked England. But they refused even a tourist visa.
My wife cried a lot, because she did not want us to be apart.
"My children were upset too and Watti said she felt dirty — as if she was being put on the rubbish heap."
So it is official British policy that Mrs Culver remains a single mum — separated from her husband by half the circumference of the earth because of one of the harshest immigration policies of any civilised country.
RAF's £1,500 Jungle a Pain in the Grass
BIGGLES would surely not approve of the latest decor at the RAF's Chivenor airfield on the windy North Devon coast.
A mini-forest of bamboo trees has sprouted in the entrance lobby of a new building which houses the base's top brass.
Rising to 15ft in large terracotta pots, the foliage could have been wrenched straight out of the Amazon jungle — where air ace Biggles had many an adventure.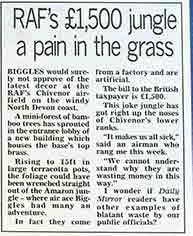 In fact they come from a factory and are artificial.
The bill to the British taxpayer is £1,500.
This joke jungle has got right up the noses of Chivenor's lower ranks.
"It makes us all sick," said an airman who rang me this week.
"We cannot under- stand why they are wasting money in this way."
I wonder if Daily Mirror readers have other examples of blatant waste by our public officials?