Exclusive by Toby MacDonald
Budget Leak Journalist Complains to Metropolitan Police Commissioner Over 'Clandestine Inquiries.'
Investigative reporter Peter Hounam is the man widely credited with "the scoop of a lifetime".
But as Mirror editor Piers Morgan sang his anonymous informant's praises, the bearded 52-year-old testily denounced the paper's "pathetic" failure to publish.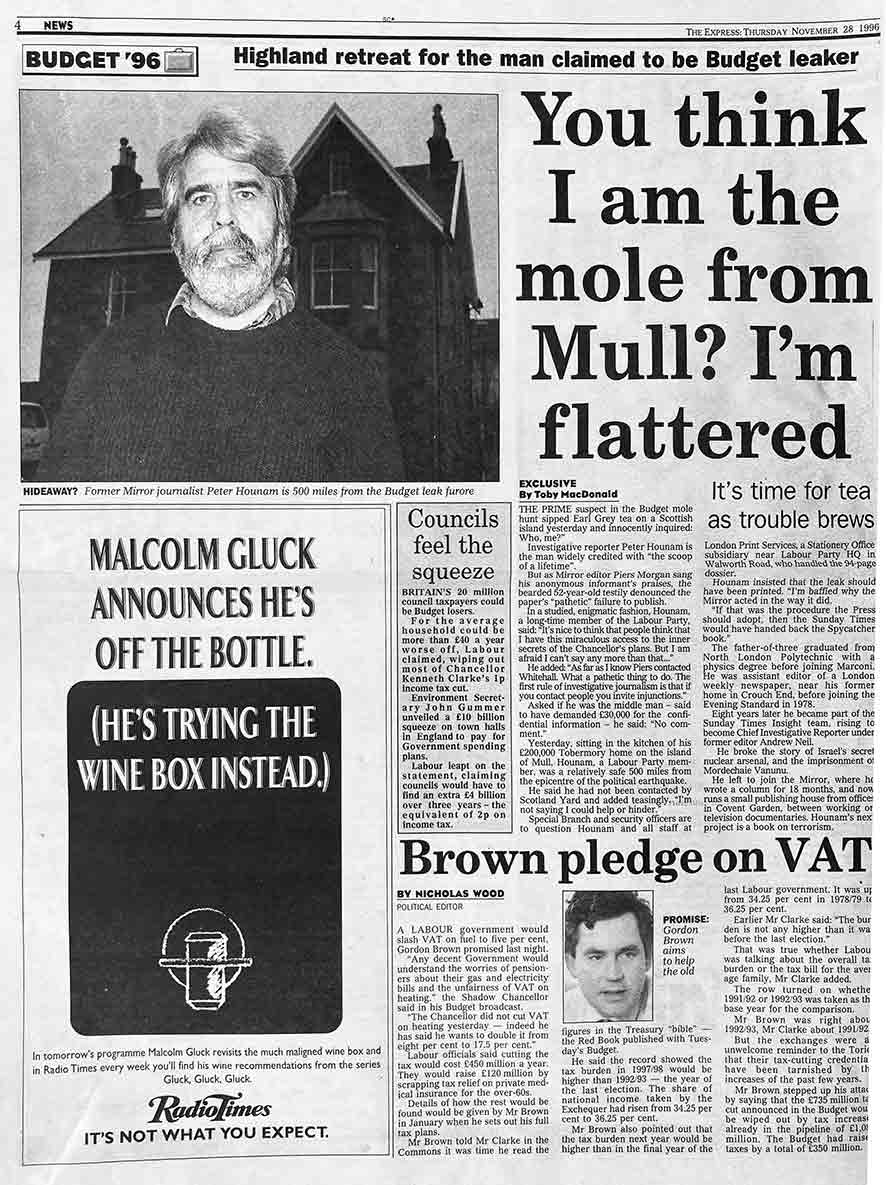 In a studied, enigmatic fashion, Hounam, a long-time member of the Labour Party, said: "Its nice to think that people think that I have this miraculous access to the inner secrets of the Chancellor's plans. But I am afraid I can't say any more than that…"
He added: "As far as i know Piers contacted Whitehall. What a pathetic thing to do. The first rule of investigative journalism is that if you contact people you invite injunctions."
Asked if he was the middle man – said to have demanded £30,000 for the confidential information – he said: "No comment."
Yesterday, sitting in the kitchen of his £200,000 Tobermorey home on the island of Mull, Hounam, a Labour Party member, was relatively safe 500 miles from the epicentre of the political earthquake.
He said he had not been contacted by Scotland Yard and added teasingly, "I'm not saying I could help or hinder."
Special Branch and security officers are to question Hounam and all staff at London Print Services, a Stationary Office subsidiary near Labour Party HQ in Walworth Road, who handled the 94 page dossier.
Hounam insisted that the leak should have been printed. "I'm baffled why the Mirror acted in the way it did.
"If that was the procedure the Press should adopt, then the Sunday Times would have handed back the Spycatcher book."
The father-of-three graduated from North London Polytechnic with a physics degree before joining Marconi.
He was assistant editor of a London weekly newspaper, near his former home in Crouch End, before joining the Evening Standard in 1978.
Eight years later he became part of the Sunday Times Insight team, rising to become Chief Investigative Reporter under former editor Andrew Neil.
He broke the story of Israel's secret nuclear arsenal, and the imprisonment of Mordecai Vanunu.
He left to join the Mirror, where he wrote a column for 18 months, and now runs a small publishing house from offices in Covent Garden, between working on television documentaries. Hounam's next project is a book on terrorism.