Peter Hounam Investigates
Daily Mirror, Friday, July 2, 1993
A billion pound training scheme for the jobless has been exposed as a sham – designed by the Government to cover up the true level of unemployment.
Cash is being poured into private agencies supposed to be providing the long-term unemployed with the skills to find work.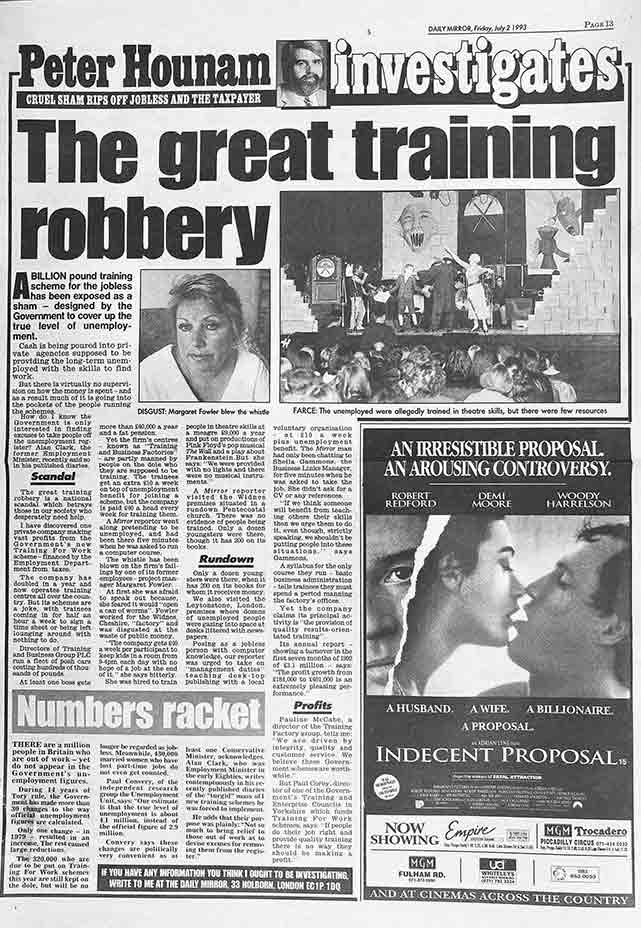 But there is virtually no supervision on how the money is spent – and as a result much of it is going into the pockets of the people running the schemes. How do I know the government is only interested in  finding excuses to take people off the unemployment register? Alan Clark, the former Employment Minister, recently said so in his published diaries.
The great training robbery is a national scandal which betrays those in our society who desperately need help.
I have discovered one private company making vast profits from the Government's new Training For Work scheme – financed by the Employment department from taxes.
The company has doubled in a year and now operates training centres all over the country. But its schemes are a joke, with trainees coming in for half an hour a week to sign a timesheet or being left lounging around with nothing to do. Directors of Training and Business Group PLC run a fleet of posh cars costing hundreds of thousands of pounds.
At Least one boss gets more than £400,000 a year and a fat pension.
Yet the firm's centres – known as "Training and Business Factories" – are partly manned by people on the dole who they are supposed to be training. The trainees get an extra £10 a week on top of unemployment benefit for joining a scheme, but the company is paid £40 a head every week for training them.
A Mirror reporter went along pretending to be unemployed, and had been there five minutes when he was asked to run a computer course.
The whistle has been blown on the firm's failings by one of its former employees – project manager Margaret Fowler.
At first she was afraid to speak out because she feared it would open a can of worms". Fowler worked for the Widnes Cheshire, "factory" and was disgusted at the waste of public money.
"The company gets £40 a week per participant to keep kids in a room from 9-4pm each day with no hope of a job at the end of it," she says bitterly.
She was hired to train people in theatre skills at a meagre £9,000 a year and put on productions of Pink Floyd's pop musical The Wall and a play about Frankenstein. But she says: "We were provided with no lights and there were no musical instruments."
A Mirror reporter visited the Widnes premises situated in a rundown Pentecostal church. There was no evidence of people being trained. Only a dozen youngsters were there, though it has 200 on its books.
Only a dozen youngsters were there, when it had 200 on its books for whom it received money.
We also visited the Leytonstone, London premises where dozens of people were gazing into space at desks littered with newspapers.
Posing as a jobless person with computer knowledge, our reporter was urged to take on "management duties" teaching desk-top publishing with a local voluntary organisation – at £10 a week plus unemployment benefit. The Mirror man had only been chatting to Sheila Gammons, the Business Links Manager, for five minutes when he was asked to take the job. She didn't or ask for a CV or any references.
"If we think someone will benefit from teaching others their skills then we urge them to do it, even though strictly speaking, we shouldn't be putting people into these situations," says Gammons.
A syllabus for the only course they run – basic business administration – tells trainees they must spend a period manning the factory's offices.
Yet the company claims its principal activity is "the provision of quality results orientated training.
Its annual report – showing a turnover in the first seven months of 1992 of £3.1 million – says: "The profit growth from £184,000 to £401,000 is an extremely pleasing performance.
Pauline McCabe, a director of the Training Factory group, tells me: "We are driven by integrity, quality and customer service. We believe these Government schemes are worthwhile."
But Paul Corby, director of one of the Government's Training and Enterprise Councils in Yorkshire which funds Training For Work schemes, says: "If people do their job right and provide quality training there is no way they should be making a profit."
Watch the Panorama investigation here: