Peter Hounam Investigates
Daily Mail, Wednesday, November 27, 1996
GORDON BROWN yesterday deplored the way civil servants can leak documents to embarrass the Government.
'Nobody can condone the leak of sensitive Budget matters the day before the Budget,' the Shadow Chancellor told Radio 4's Today programme.
'The most important thing to recognise is that the civil servant who did this is serving no public purpose. I do not think anyone should condone the action.'
Yet 72 hours earlier Mr Brown was directly implicated in the leaking of a confidential document in an attempt to embarrass the Government.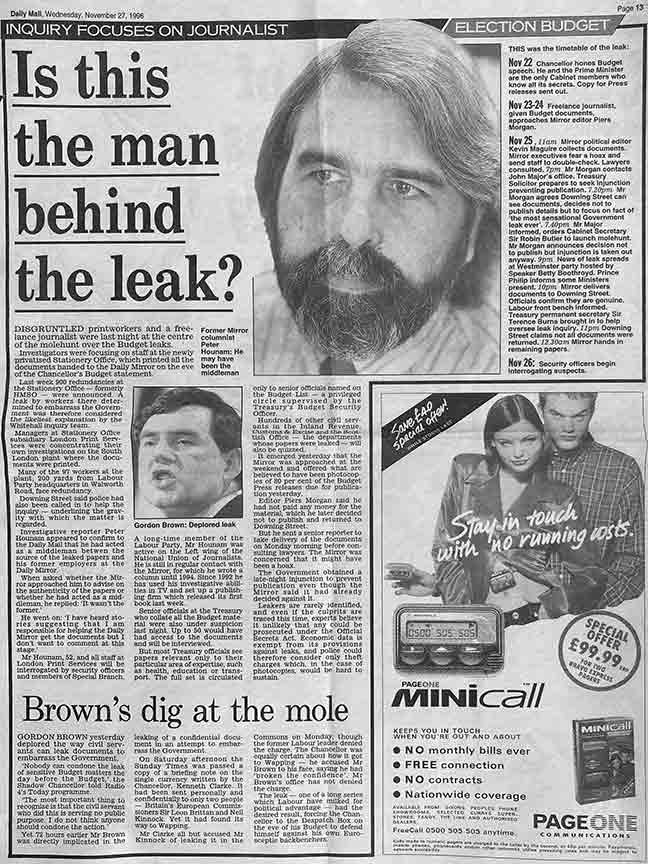 On Saturday afternoon the Sunday Times was passed a copy of a briefing note on the single currency written by the Chancellor, Kenneth Clarke. It had been sent personally and confidentially to only two people— Britain's European Commissioners Sir Leon Brittan and Neil Kinnock. Yet it had found its way to Wapping.
Mr Clarke all but accused Mr Kinnock of leaking it in the Commons on Monday, though the former Labour leader denied the charge. The Chancellor was equally certain about how it got to Wapping — he accused Mr Brown to his face, saying he had 'broken the confidence'. Mr Brown's office has not denied the charge.
The leak — one of a long series which Labour have milked for political advantage — had the desired result, forcing the Chancellor to the Despatch Box on the eve of his Budget to defend himself against his own Eurosceptic backbenchers.