By Peter Hounam and John Davison
The Sunday Times, October 27, 1991
FRAUD squad detectives in Merseyside believe they have uncovered a secret Militant network across the north of England that funds the leftwing organisation by "fixing" land deals for a favoured group of property developers and building contractors.
Police now suspect that the cash earned in commissions from these allegedly illicit deals has been bankrolling a substantial part of the Militant organisation's activities for some years, including perhaps its large headquarters complex in Hackney, east London, and the Militant newspaper.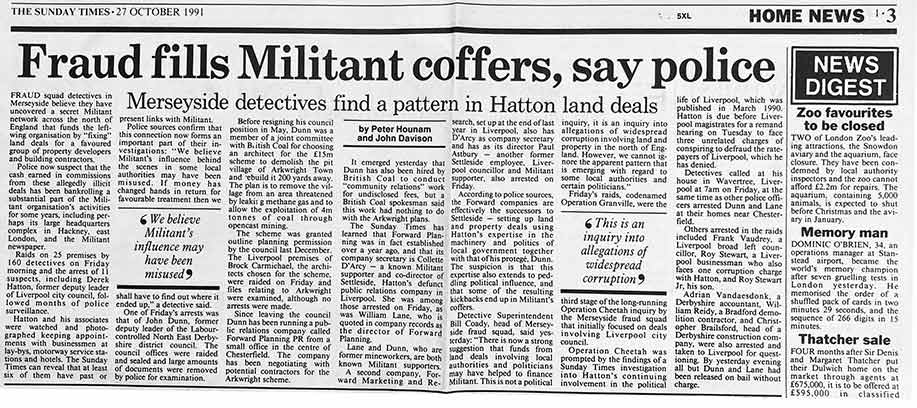 Raids on 25 premises by 160 detectives on Friday morning and the arrest of I I suspects, including Derek Hatton, former deputy leader of Liverpool city council, followed months of police surveillance.
Hatton and his associates were watched and photographed keeping appointments with businessmen at lay-bys, motorway service stations and hotels. The Sunday Times can reveal that at least six of them have past or Merseyside detectives find a pattern in Hatton land deals present links with Militant. Police sources confirm that this connection now forms an important part of their investigations: "We believe Militant's influence behind the scenes in some local authorities may have been misused. If money has changed hands in return for favourable treatment then we 6 we believe Militant's influence may have been misused' shall have to find out where it ended up," a detective said.
One of Friday's arrests was that of John Dunn, former deputy leader of the Labour controlled North East Derbyshire district council. The council offices were raided and sealed and large amounts of documents were removed by police for examination.
Before resigning his council position in May, Dunn was a member of a joint committee with British Coal for choosing an architect for the £15m scheme to demolish the pit village of Arkwright Town and •rebuild it 200 yards away.
The plan is to remove the village from an area threatened by leaking methane gas and to allow the exploitation of 4m tonnes of coal through opencast mining.
The scheme was granted outline planning permission by the council last December.
The Liverpool premises of Brock Carmichael, the architects chosen for the scheme, were raided on Friday and files relating to Arkwrightwere examined, although no arrests were made.
Since leaving the council Dunn has been running a public relations company called Forward Planning PR from a small office in the centre of
Chesterfield. The company has been negotiating with potential contractors for the Arkwright scheme.
It emerged yesterday that Dunn has also been hired by British Coal to conduct "community relations" work for undisclosed fees, but a British Coal spokesman said this work had nothing to do with the Arkwright plans.
The Sunday Times has learned that Forward Planning was in fact established over a year ago, and that its company secretary is Collette D'Arcy — a known Militant supporter and co-director of Settleside, Hatton's defunct public relations company in Liverpool. She was among those arrested on Friday, as was William Lane, who is quoted in company records as the director of Forward Planning.
Lane and Dunn, who are former mineworkers, are both known Militant supporters.
A second company, Forward Marketing and Research, set up at the end of last year in Liverpool, also has D'Arcy as company secretary and has as its director Paul Astbury — another former Settleside employee, Liverpool councillor and Militant supporter, also arrested on Friday.
According to police sources, the Forward companies are effectively the successors to setting up land Settleside and property deals using Hatton's expertise in the machinery and politics of local government together with that of his protegé, Dunn.
The suspicion is that this expertise also extends to peddling political influence, an that some of the resulting kickbacks end up in Militant's coffers. Detective Superintendent Bill Coady, head of Merseyside fraud squad, said yesterday: "There is now a strong suggestion that funds from land deals involving local authorities and politicians may have helped to finance Militant. This is not a political inquiry, it is an inquiry into allegations of widespread corruption involving land and property in the north of England. However, we cannot ignore the apparent pattern that is emerging with regard to some local authorities and certain politicians."
Friday's raids, codenamed Operation Granville, were the third stage of the long-running Operation Cheetah inquiry by the Merseyside fraud squad that initially focused on deals involving Liverpool city council.
Operation Cheetah was prompted by the findings of a Sunday Times investigation into Hatton's continuing involvement in the political life of Liverpool, which was published in March 1990.
Hatton is due before Liverpool magistrates for a remand hearing on Tuesday to face three unrelated charges of conspiring to defraud the ratepayers of Liverpool, which he has denied.
Detectives called at his house in Wavertree, Liverpool at 7am on Friday, at the same time as other police officers arrested Dunn and Lane at their homes near Chesterfield.
Others arrested in the raids included Frank Vaudrey, a Liverpool broad left coun-cillor, Roy Stewart, a Liverpool businessman who also faces one corruption charge with Hatton, and Roy Stewart Jr, his son.
Adrian Vandaesdonk, a Derbyshire accountant, William Reidy, a Bradford demolition contractor, and Christopher Brailsford, head of a Derbyshire construction company, were also arrested and taken to Liverpool for questioning. By yesterday evening all but Dunn and Lane had been released on bail without charge.