Peter Hounam Investigates
Daily Mirror, Wednesday, December 29, 1993
A DODGY horse dealer has made an ass of John Major, the Daily Mirror reveals today.
The convicted fraudster is being paid £6,000 of taxpayers' money to bail the Premier out of a diplomatic row over a gift horse.
Astonishingly, Downing Street failed to check on the background of businessman Ron Meddes.
But the Mirror has found that the 54-year-old former insurance boss was banned by Lloyd's and served a jail term for a £6 million City fraud.
Many of the 97 workers at the plant, 200 yards from Labour Party headquarters in Walworth Road, face redundancy.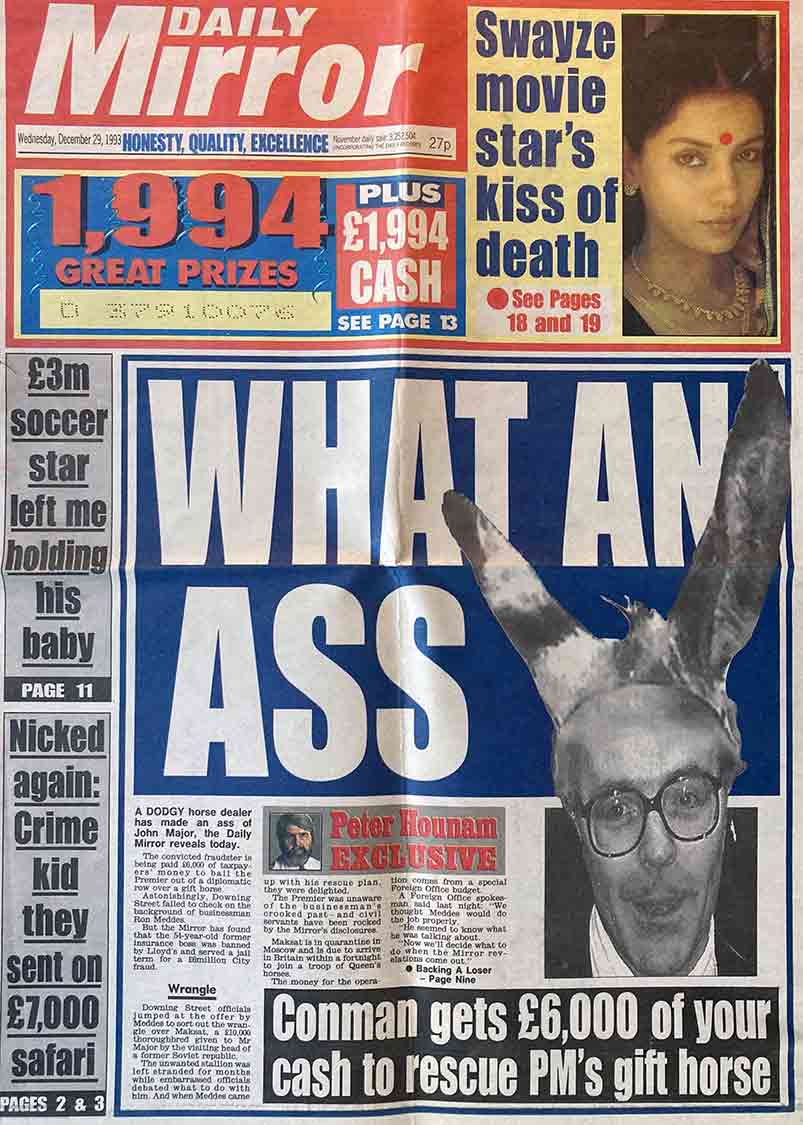 Wrangle
Downing Street officials jumped at the offer by Meddes to sort out the wrangle over Maksat, a £IO,OOO thoroughbred given to Mr Major by the visiting head of a former Soviet republic.
The unwanted was left stranded for a month while embarrassed officials debated what to do with him. And when Meddes came up with his rescue plan, they were delighted.
The Premier was unaware of the businessman's crooked past— and civil servants have been rocked by the Mirror's disclosures.
Maksat is in quarantine innMoscow and is due to arrive in Britain within a fortnight to join a troop of Queen's Horses.
The money for the operation comes from a special Foreign Office budget.
A Foreign Office spokesman said last night: "We thought Meddes would do the job properly,
"He seemed to know what he was talking about. "Now we'll decide what to do when the Mirror revelations come out."